Dr. Helen Wang, Acupuncturist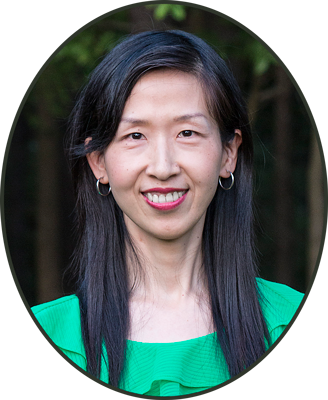 Helen Wang, PhD, LAc uses acupuncture and Chinese herbal medicine to help her patients achieve better health and improve their lives. Her patients are better able to listen to what their bodies are saying and as a result, take greater responsibility for their health and well-being. Schedule an appointment with Dr. Wang if you need to relieve stress or ease pain.
Educational Background
Dr. Wang has dedicated her life to understanding and addressing the root causes of disease and the energy system of the human body. Dr. Wang studied Traditional Chinese Medicine (TCM) and western medicine at highly acclaimed Beijing University of TCM in China. She completed the equivalent of a US medical degree in 1994. Dr. Wang received her PhD in medical oncology from Kanazawa University, Japan in 2002.
Clinical Experience
As one of a rare breed of medically qualified acupuncturists, Dr. Wang began practicing acupuncture, Chinese herbal medicine, western medicine in a large community hospital in Shenzhen, China in 1994. She moved to North Carolina in 2003 and became nationally board certified in Oriental Medicine by the National Certification Commission for Acupuncture and Oriental Medicine (NCCAOM). Dr. Wang is a member of the Society for NCCAOM and the North Carolina Association of Acupuncture and Oriental Medicine. She is licensed to practice Oriental medicine and acupuncture in the State of North Carolina.
Dr. Wang has also collaborated on an NIH-funded clinical trial examining the effectiveness and feasibility of acupuncture in the treatment of menopausal hot flashes.
Expertise
Dr. Wang offers complementary and alternative medicine (CAM) treatments for a variety of conditions. She is especially interested in pain management, women's health, and cancer care and prevention. Examples of the conditions she treats:
Headaches
Neck Pain
Rotator cuff tendonitis
Back pain
Tennis and golf elbow
Carpal tunnel syndrome
Plantar fasciitis
Bell's Palsy
Insomnia
Heart palpitations
Menopausal hot flashes
Menstrual disorders
Infertility
Weight loss
Seasonal Allergies
Asthma
High blood pressure
Irritable bowel syndrome
Treatment Approach
Like all of the practitioners at Acupuncture Balanced Health, Dr. Wang uses treatments that provide a sense of well-being in addition to easing pain, discomfort, and other symptoms. She is known for her gentle, caring bedside manner and desire to help people balance their minds and bodies.