Support for Cancer Patients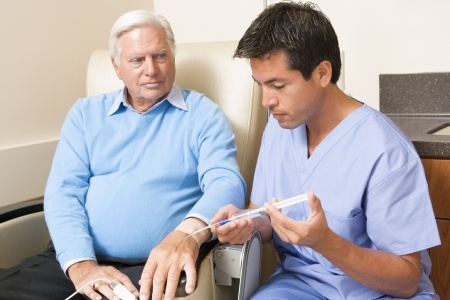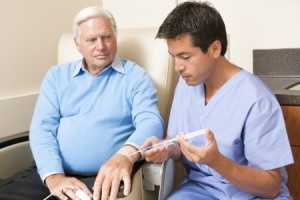 There is no clinical proof as yet that acupuncture in any of its forms can treat cancer itself. However, several studies indicate acupuncture for cancer treatment can be an effective method of improving quality of life and patient morale.
Since both of these can be instrumental in successful cancer treatment, there is a link between acupuncture and its use as cancer treatment support. Patients who are considering using this ancient treatment as a chemotherapy support should know a little more before they decide. Acupuncture can provide relief for a range of conditions experienced by cancer patients, including but not limited to nausea, hot flushes, pain and fatigue.
Types of Acupuncture for Cancer Treatment
Most people are familiar with the traditional type of acupuncture, which uses thin needles on the meridians of the body to stimulate qi or chi. However, while this is one of the types of acupuncture used to treat cancer symptoms, it's not the only one, and you are as likely to benefit from several types of acupuncture as well as supplementary treatments:
Acupressure, which uses pressure, rather than needles, on key points to stimulate chi.
Light-based (laser) acupuncture, which is a much more modern form of treatment.
Electro acupuncture, which uses weak electrical currents to stimulate meridians and acupuncture points.
Cupping, which uses heat and small cups to create suction on key points.
Moxibustion, which uses heat and Chinese herbs to stimulate blood flow.
How Acupuncture Supports Chemotherapy
Acupuncture is not a replacement for traditional medicine or for chemotherapy in the treatment of cancer. However, it has been proven to be beneficial in the treatment of pain and nausea associated with cancer and cancer treatment.
Since many patients undergoing chemotherapy for cancer treatment find that the treatment is almost as difficult as the disease itself, supportive treatment that helps to eliminate the side effects of conventional medicine can be critical in long term care.
Acupuncture has also been found to stimulate the appetite in cancer patients, which in turn increases the nutritional support of conventional treatments.
Finally, acupuncture has been proven to be instrumental in treating chemotherapy-induced health issues.
If You Are Considering Acupuncture for Cancer Treatment
Acupuncture may be a traditional treatment based on ancient ideology, but it can still pose risks to any patient, and particularly to those seeking cancer treatment support. Before you decide to use acupuncture as a supplementary treatment, be sure to talk to your medical team about the following risks:
Bleeding disorders and taking blood thinners generally also rule out patients from traditional needle acupuncture.
Pregnancy (which in the case of cancer patients undergoing chemotherapy is unlikely but not impossible).
Acupuncture does not have the risk of infection or heart problems. The significant side effects of acupuncture occur in 1 or 2 per 34,407 treatments.
Be sure to discuss these and any other concerns before opting for this type of complementary cancer treatment.
Choosing an Acupuncturist for Cancer Treatment
When it comes to something as vital as acupuncture for cancer treatment, it's more important than ever to choose an acupuncturist who is skilled, licensed and experienced in offering this type of treatment. Many acupuncturists are also trained western physicians, but if not, there are certifications and exams that are required by the National Certification Commission for Acupuncture and Oriental Medicine (NCCAOM). A good resource for finding an acupuncturist to support cancer treatment is to consult your medical team or ask for referrals.
Quality of Life Support
Cancer is a terrible disease to battle and beat, and while chemotherapy and other accepted forms of treatment may be less than ideal, they are some of the best tools oncologists and cancer professionals have to treat this collection of pathologies in many cases.
Acupuncture cannot replace those treatments, but it can help to lessen the side effects and keep patients stronger and better able to fight the effects of both the disease and the treatments.
If you have questions about acupuncture for relief during cancer treatments, please click here to contact us.